Finished product: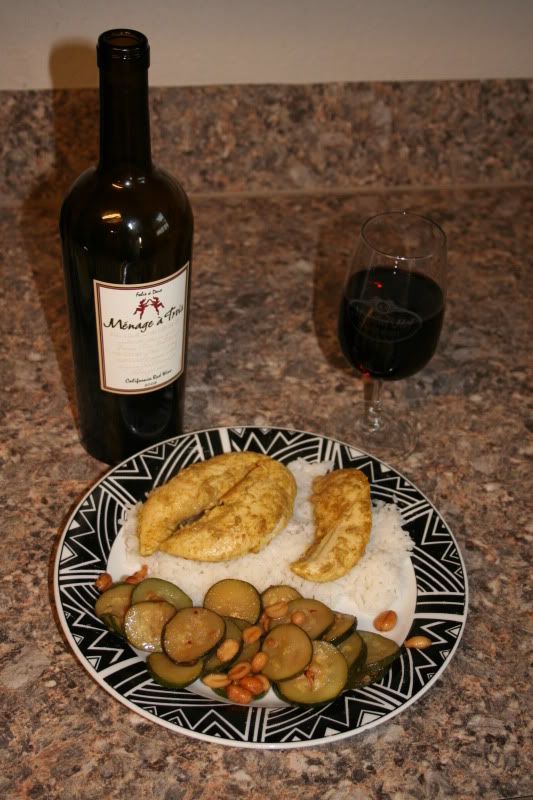 Ingredient lists:
Chicken Satay
1/2 cup canned coconut milk
1 1/2 teaspoons ground coriander
1 teaspoon yellow curry powder
1 teaspoon fish sauce
1/2 teaspoon chili oil
1 pound skinless, boneless chicken breast halves - cut into strips
1 tablespoon chopped fresh cilantro
1 tablespoon chopped unsalted peanuts
12 wooden skewers, soaked in water for 15 minutes
1 cup prepared Thai peanut sauce
Thai peanut sauce
1 cup fresh-tasting dry roasted peanuts, unsalted
1/3 cup water
2 cloves garlic, minced
1/2 tsp. dark soy sauce
2 tsp. sesame oil
1/2 to 2 Tbsp. brown sugar, to taste
2 to 2.5 Tbsp. fish sauce - for vegetarians: substitute 2.5 to 3 Tbsp. regular soy sauce
1/2 tsp. tamarind paste OR 2 Tbsp. lime juice
1/2 tsp. cayenne pepper, OR 1 tsp. Thai chili sauce (more or less to taste)
1/3 cup coconut milk
Thai zucchini
1
garlic clove, minced
1
teaspoon
minced fresh ginger
1
pinch
dried crushed red pepper flakes
2
teaspoons
olive oil
1/3
cup
finely chopped unsalted dry roasted peanuts
3
teaspoons
chicken broth
3
teaspoons
rice vinegar
2
teaspoons
soy sauce
1
pinch
sugar
3

medium zucchini, cut into very thin strips
Now that the shopping list is out of the way, first thing we need to do is create the marinade for the chicken. You're going to want this to sit covered in the fridge for at least 30 minutes, but preferably 2 hours.
Stir together the coconut milk, ground coriander, curry powder, fish sauce, and chili oil. Add the chicken breast strips, and stir to coat. Cover and put in the fridge.
Next you're going to want to get the Thai sauce together. Take everything in the ingredient list for the sauce and throw it all in a processor.
Afer its smooth, taste and adjust to your palette. Want it more salty, add fish sauce. Sweeter, more suger. You get the idea.
All the ingredients together before the food processor:
And after its been run through the processor:
When its getting close to grill time, you might be better off with a partner to do the veggies while you grill so they'll be done at the same time. If not, that's okay. I'd attack the veggies first, then grill the meat. They'll stay hot because it won't take long to brown up the chicken.
As a Texan, you should always have a "grilling beer" when you grill. My choice today was a Shiner Bock, a Texas beer brewed in Shiner, Texas. If you've never tried one, you need to.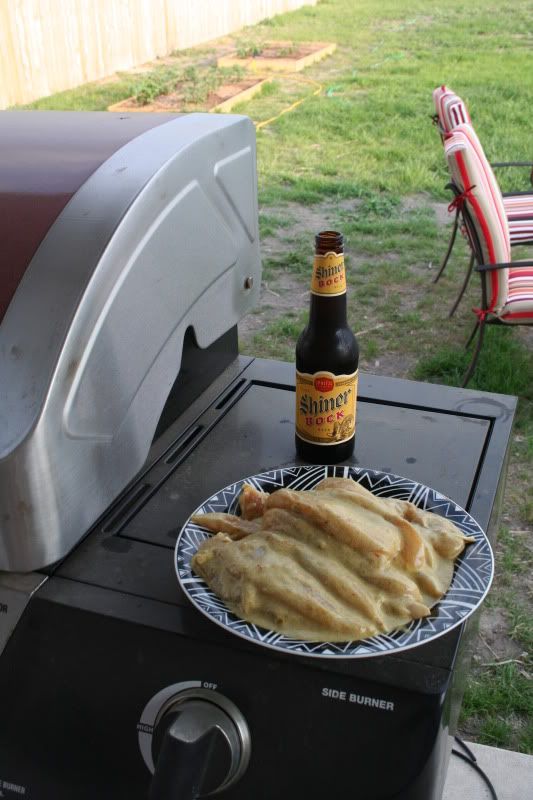 Cook garlic, ginger, and red pepper in oil in a large skillet over medium-high heat for 1 minute, stirring constantly.
Add peanuts and next 4 ingredients, stirring well.
Add zucchini, and cook, stirring constantly, for about 5 minutes, or until crisp tender.